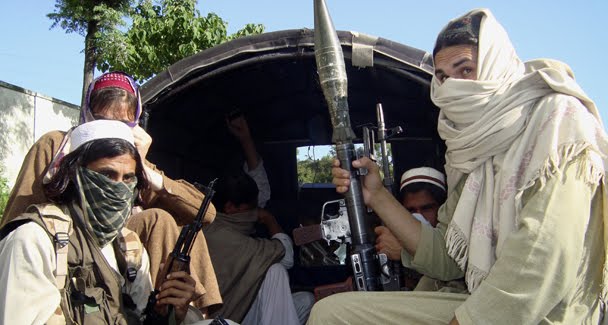 BY MOHAMMAD TAQI
The elimination of Afghan Taliban chief Mullah Akhtar Mansour in a US drone attack inside Pakistan last month has once again raised questions about Pakistan's nexus with, and seriousness to eliminate, jihadist groups on its soil. Instead of serious introspection about why an Afghan jihadist was found inside Pakistan and apparently carrying that country's passport, the Pakistani civilian and military leadership has opted to respond by blaming the world for not doing enough to help Pakistan fight terrorism. A senior advisor to Pakistani Prime Minister Nawaz Sharif called the US a 'selfish friend'. Faced with increasing diplomatic isolation within the region and on the world stage, the Pakistani leadership, instead of taking stock of its own disastrous policies, went on to blame even those Pakistanis who have consistently warned against using jihadism as tool of foreign policy and national security.
The Director General of Pakistan's Inter-Services Public Relations, General Asim Saleem Bajwa, recently told the Deutsche Welle's Urdu service that "The world had abandoned Pakistan to handle and face the terrorists in the region alone, and Pakistan has completed the task". The Pakistani military spokesperson's allegation could not be farther from the truth. The direct overt US aid appropriations for and military reimbursements to Pakistan between fiscal years 2002-2016 have been about $7.9 billion while the coalition support fund disbursements were a little over $14 billion.
Additionally, US civilian economic assistance to Pakistan was at least $11.1 billion. Pumping over $33 billion into Pakistan's coffers along with granting access to state-of-the-art military hardware is not exactly abandoning a country, which is in a mess of entirely its own making. While Pakistan's leaders portray its terrorism problem as an aftermath of the campaign against the Soviet incursion into Afghanistan, the fact is that the country's love affair with jihadism and proxy warfare started right at its inception and has continued uninterrupted since.
A history of backing jihadist activities
Liaquat Ali Khan, Pakistan's first prime minister, presided over the 1947-48 incursion into Kashmir by the tribal jihadists and ex-servicemen. Military historian Shuja Nawaz has noted that one of the planners of the jihadist invasion, Colonel (later general) Akbar Khan, even adopted "the nom de guerre General Tariq, after Tariq bin Ziad, the legendary Berber Muslim invader of Spain after whom Gibraltar is named". Pakistan's fascination with jihadism continued and in 1965 the military conceived another plan, dubbed Operation Gibraltar, to foment an uprising in Kashmir, ostensibly to jumpstart a "freedom" struggle. The botched operation led to an all out war with India but the use of assorted jihadist proxies, many of whom have been proclaimed terrorist organisations and sanctioned by the UN, against India continues to date. India-oriented jihadists parading the streets of major Pakistani cities, including in the federal capital, is a common sight.
On its western frontier, Pakistan started its jihadist manoeuvring by hosting Afghan extremists as early as 1974, ostensibly to counter the Afghan support for the secular Pashtun nationalist-separatist movement in Pakistan, when there was no Soviet Union or the US presence in Afghanistan. The founder of the Haqqani Network, Jalaluddin, set up his jihadist shop in Pakistan's North Waziristan region around 1975 and by 1980 he was running a jihadist seminary there.
These same jihadists were enlisted to fight against the Soviet Union in the 1980s, an effort in which Pakistan did receive support from the US and Saudi Arabia. But while the US and others backed off, Pakistan never did stop backing and using these jihadists to project its hegemonic designs on Afghanistan even after the Soviet withdrawal in 1989. Pakistan not only played a major part in the rise of the Afghan Taliban in 1996 but also became the first of only three countries in the world to recognise its brutal regime. Many of the Taliban cadres and leaders, including its chief Mullah Omar, had been educated in religious seminaries in Pakistan and others like Jalaluddin became ministers in that barbaric regime.
After 9/11, Pakistan became a reluctant US ally in the war against terror, but within no time the Afghan Taliban regrouped on Pakistani soil and launched attacks against Afghanistan, undermining the US and international efforts at stabilising that country. In return for the $33 billion, Pakistan had little to show in practical terms. America's most wanted man, Osama bin Laden, was discovered and neutralised next to Pakistan's premier military academy. 
Omar, whose men targeted and killed not just Afghans but also the US servicemen and servicewomen in Afghanistan, had sanctuary in and died in Pakistan. Similarly, Omar's successor Mansour was selected as the Taliban emir and killed inside Pakistan. The Haqqani Network used Pakistani territory in Waziristan to launch attacks on Afghanistan and US personnel there. Despite Pakistan's claims that it has targeted the Haqqani Network in its ongoing military operation, Zarb-e-Azb, it has failed to produce even a shred of evidence that it has ever captured or killed any of the terror group's leaders.
Patience wears thin
Pakistan only acts against the jihadists when it is faced with a principal-agent dilemma and a misalignment of its interests with sections of the jihadists it has groomed. A section of jihadists, which called itself the Tehrik-e-Taliban Pakistan (TTP), has attacked Pakistan over its nominal alliance with the US. The military operations that Pakistan has undertaken over the past decade have been exclusively against the TTP or an occasional foreign group or elements allied with it. The India- and Afghanistan-oriented jihadists (agents) have not posed a threat to Pakistan (the principal) and have thus not faced even a rap on the knuckles. Pakistan has arbitrarily divided the jihadists into the 'bad' ones, who attack its interests, and the 'good' ones, who don't. The problem with this approach is two fold: first, to maintain a steady stream of 'good' jihadists, an extremist ecosystem has to be maintained at the expense of Pakistani society and people, with the hard blowback in the form of TTP-type attacks; second, the region and the world's patience with the 'good' jihadists is wearing extremely thin with each bloodbath perpetrated by these elements.
Pakistani leaders must put their house in order and stop blaming the world for their jihadist policies, which have led to nothing but disaster both within and outside Pakistan. The first step to rectifying its jihadism addiction would be for Pakistan to recognise that it is hooked on a dreadful habit. The selection of Mullah Haibatullah – inside Pakistan once again – to replace Mansour as the Taliban's emir and a $3 million government grant to the alma mater of the jihadists located just 70 miles from the country's military headquarters, however, indicates that any introspection may not be forthcoming.
Mohammad Taqi is a former columnist for the Daily Times, Pakistan. Follow him on Twitter @mazdaki.