Tashfeen Malik was his follower

by Daily Mail UK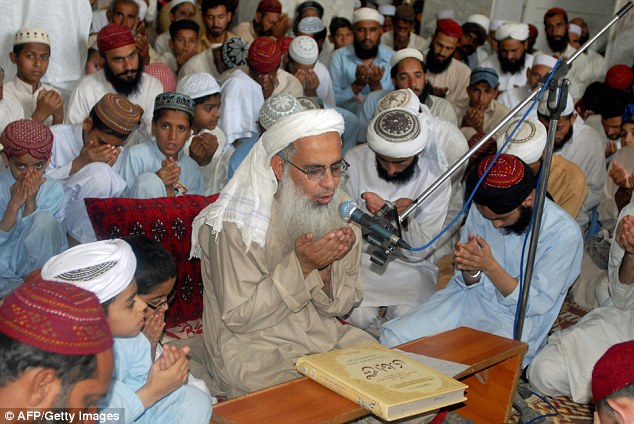 The woman who took part in the ISIS-inspired San Bernardino massacre is linked to her native country's most notorious radical mosque, American officials believe.
Sources have told Daily Mail Online that US officials handed over information to their Pakistani counterparts about links between Tashfeen Malik and the Red Mosque in Islamabad.
The mosque is infamous for its links to violence and authorities in Pakistan are now considering taking action against its preacher, Maulana Abdul Aziz, after the disclosures by US officials.
It is unclear currently how law enforcement and intelligence agencies in the US have connected Malik to the mosque.
In the immediate aftermath of the attack on Wednesday, a US intelligence official told Daily Mail Online that his agency was investigating Sayeed Farook's ties to known terror groups abroad, saying: 'The United States will leave no stone unturned.
'This is what we do. If he has ever communicated with ISIS, al-Qaeda, al-Nusra, or any other known Islamic threat group, we'll find out.'
Malik is now known to have proclaimed her loyalty to ISIS shortly before the attack. 
American officials have now held crisis talks with one of Pakistan's most senior figures Shahbaz Sharif, brother of prime minister Nawaz Sharif, at the country's High Commission in London, sources revealed.
Sources with knowledge of the meeting told Daily Mail Online that the US had handed over 'some proofs' of links to the Red Mosque, known in Urdu as Lal Masjid.
Pakistani authorities were described as 'seriously thinking' of how to take action against Aziz, the chief cleric of the mosque.
Malik was born in Pakistan and lived there until the age of two then raised in Saudi Arabia, where she lived in Riyadh where her father, Gulzar Ahmed Malik is thought still to live.
She returned to Pakistan in 2010 to study pharmacy at the Bahauddin Zakariyah University in Multan. The city, in the south of the Punjab, is believed to be where her family originally came from.
Public records show that she was a high-achieving student.
There are conflicting accounts of her educational achievements. She completed a three-year master's degree in pharmacy.
She was also listed as being in the fourth year of a D Pharm degree in 2014, although she may not have completed it.
Intelligence agencies will be examining her time in the Punjab, the country's most populous province, where there has been a growing Pakistani Taliban threat.
But the link to the Red Mosque may prompt the most rapid action by Pakistani authorities.
It achieved international notoriety in 2007, when it was at the center of a bloody siege as fundamentalists clashed with security forces.
The siege came after months of increasingly violent demonstrations in favor of sharia law in Pakistan and in support of the Taliban in Afghanistan.
When rioters set a government ministry on fire, government troops took action against the mosque and an eight-day stand-off with running firefights ensued.
The siege was ended when Pakistani special forces moved in. Accounts of the number of deaths vary from 91 claimed by Pakistan police to around 300 by two television stations, to as high as 1,000 by fundamentalist political parties.
The siege prompted Osama bin Laden's deputy, Ayman al-Zawahiri, to call for Pakistan's people to rise up against its government, but led to the discovery of huge amounts of heavy weapons concealed in the heart of the country's capital city.